DIGITAL PRINTING TECHNOLOGY
Water and moisture resistant
Strong and sturdy planks
Maintenance free
Invisible nails create a neater appearance
Matching accessories
No glue or sealant required
No special tools required
Authentic wood finish digitally scanned
Exclusive UV protective coating
Lifetime warranty
The cellular PVC is a next-generation material with microbubble- infused polymer material offering a rigid product that can be worked as easily as real wood.
1. Cellular PVC 
Cellular composite plank. A rigid and durable material with superior hail, impact, and scratch resistance.
2. HD PRINTING 
High-definition digital inkjet print of a wide range of textures with outstanding color variations.
3. Z CLEAR 
A protective clear coat is applied to provide long-term protection against fading.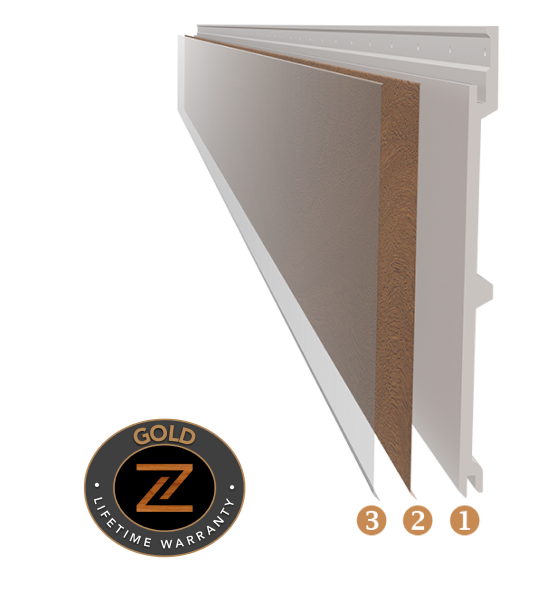 Cellular PVC Plank 0,25″ (6,25 mm)
V GROOVE PROFILE 
 4 inches
OVERLAP PROFILE
4 or 7 inches
Move cursor over image to zoom
Note: See the Photo gallery in the Aluminum section to view the textures and colors (since the images printed on the aluminum are the same for the cellular PVC).
Note: Please click on the image below to view full images of our 9 different planks of 6 inches by 16 feet.
More standard colors available upon request.